And Onto Color -
"No color is off limits this year!" agrees Danny Lapointe at Clairol. "Blonde, brunette, and redhead are all in fashion, as long as they are soft, shiny, and multidimensional tones that look natural."
What it isn't:
2010's blondes are not ashy or 'dirty blonde. Golden blonde hair color is center stage. Be on the lookout for one predominant color, and then highlighted softly throughout. Even though your roots can be slightly darker, don't try to pull off the a "I'm too cheap to get my hair dyed" vibe.
If you're looking to add something really striking to the look, consider bleaching or lightening your eyebrows a lighter shade of blonde than golden to bring the look together.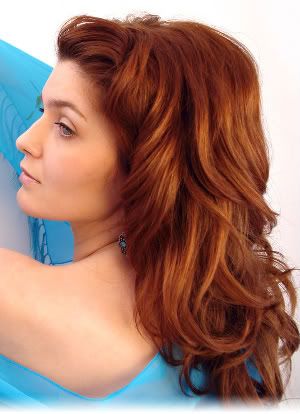 Deserving of its own dedicated article, redheads are, in 2010, the new bombshells (YAY, because as everyone knows - RED is my FAVORITE!). Being a rare hair color puts redheads into their own exclusive group, but that doesn't mean you can't join them. Seen throughout history as everything from fiery warriors to seductive maidens, red haired beauties have plenty of ongoing appeal in 2010.
Short black hair cut is not so much a hair color trend as it is a pairing of black hair with a short hair cut. The short black haircut is one of the 2010 haircut trends that is somewhat universal. Able to be styled in looks from classic to neo-rocker and its ability to be cut in a variety of different ways (with or without a fringe, as a bob or near-on pixie crop short) the short black haircut for 2010 will work most face shapes and skin color.