Most of us are fairly well informed about skin cancer and the positives effects about using sunscreen. No sunburns, less chance for skin cancer, skin spots, freckles, damage, and etc.
What about your hair? Oprah Winfrey made the comment that the best invention of our previous century was haircolor, and I completely agree with her! Adjusting someone's haircolor can create such an awesome, creative change. It makes you feel better about yourself and sometimes it helps you even grow your hair out, because while it takes months for length to happen, if you want change, adding highlights or an overall different color still allows you to have fun in the moment.
It is important though to protect the hair from the sun, colored or not. Aveda has come out with this AMAZING product, which we cannot even seem to keep on the shelves, it's so awesome.
Aveda's Sun Care Hair Veil: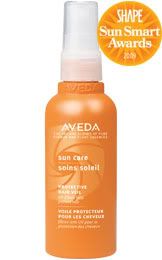 I spray it throughout the hair before I blowdry or allow the hair to airdry. Then before I go out swimming or even just out for the day, I'll spray it again, just for some extra protection. It's perfect for kids, women, and men too.