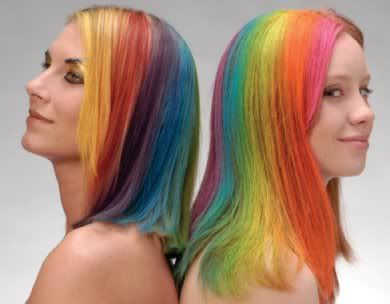 Alright...so her hair wasn't THIS bad. I've actually never had anyone come in with this bad of hair, thank goodness! Every day is definitely different in my world and I'm always thankful when I can make someone's day and help their hair out at the same time.
It's strange how when I meet someone new, I can usually determine whether or not they had their hair done at the salon previously or not. As stylists, we have to go through such an extensive assistance program and our color is a step above anything I've ever used before. So when I see something different, I can usually identify it with not being Aveda color or Ihloff's work, usually. Mistakes happen and no one is perfect, but on average.
My poor girl though....she was so sweet. The last stylist hadn't lifted her hair to a high enough level, so it was very much stuck in the 'orange' zone. They had tried to tone it, but she mentioned that it washed out after just a few days. Golden orange looks good on very few....perhaps monkeys or clowns? That's about it and even that's not beautiful in all parts of the world.
So....she was down for a foil and I told her that I couldn't promise that we would be able to get rid of the orange. One thing that is very hard for people, guests and hairstyists even (!) to understand is that color does not lift color, at least not predictably. They may be some product out there, under some lens that I have not seen, but the plants have not given us this higher power yet! (Aveda's color is 97-99% naturally derived from plants). So, the only thing to do with orange hair color is to lift it out or darken it up. We did both! A couple blonds, a darker brown, all woven and sliced to a different pattern....a little toner at the end for a last attempt to tone down the previous brassy color, and to the chair for a trim.
I hate hate HATE cutting people's hair off if they want long hair. Personally, I've wanted long hair all my life and I've finally figured out the secret. Stop cutting it! But there does come a point that if it's damaged it needs to come off. But I still feel bad and will send you home with an intensive conditioner or have you come in for a hairspa treatment first. We'll try to repair what we can, and then the rest can be cut. Sometimes not everything can be saved, but overtime, we will prevail!
Oh, my foiling operation lady did make me smile with one of her comments. She is a working mother of 2. She and her husband are trying to take over the family business and she was literally falling asleep while I was foiling her hair because she was so exhausted...too cute. But my 'sweet personality' made her feel relaxed. I told her that she doesn't want to come on Saturdays then, because then it's super busy. She made my night though, being able to make someone else feel better, that's what it's all about anyway.