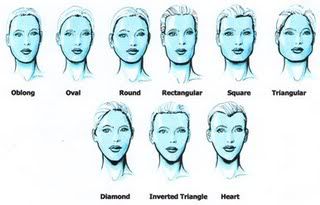 To determine if you have a Round Face - you can actually use a measuring tape. It will be as wide as it is long (varying within 1/4" to 1/2"). People with round faces usually have fullness at or below their cheekbones. They also tend to have wide hairlines, while their necks appear to be shorter.
There is no 'perfect' haircut for a round face shape, because everyone has different hair, texture, shape, length, wave, and porosity. These are just some guidelines to help you achieve your best look.
-Layered or textured bangs tend to look better than straight or super heavy bangs.
-Styles that provide height at your crown make your face seem slimmer.
-Styles that accentuate the length under your chin towards the top of your shoulders (example: shag).
-Keeping the sides of the hairstyles closer to your face to not accentuate the width.
And another topic....
Double chin - how do we take the focus away from our 'nonpositive' qualities?
~If you keep the hair around your face above chin level, it draws eyes upwards. The back can still be a little longer, and a bob could be ideal.
~A short cropped style makes a short neck appear longer. Wearing long hair up gives the same effect.
~Well placed highlights help to slenderize a round face to help it to appear more oval.