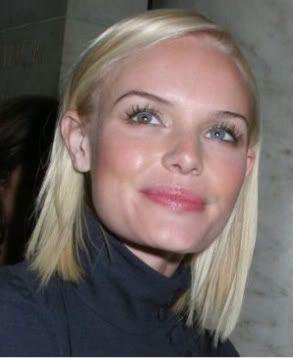 Square is NOT a bad thing! Strong, angular jawline is the difference between a square and round face. If you were to measure your head from top to bottom and side to side, they measure about the same.
You just need to accentuate the positive and minimize the negative. How do you do that? Here are some guidelines:
Bangs ~ blunt cut bangs make a square face appear even more square. Longer, side swept bangs help to soften lines and the harsh lines.
If you have sharp, angular features, a severe ponytail or bun highlights them. If you like that, great. But this look is a typical "don't" for square faces.
Long layers complement a square face, especially when they begin at the jawline and continue downward. Layers around your face will soften the harsher angles.
If you have curly hair, try to keep the length below the jawline. Curly hair tends to frizz up when too short and a longer cut weighs down the curls so they're less "poufy." Texture in the form or curls or choppy ends is a great look for square faces. Waves also soften angular features.
The pixie cut is gorgeous on petite women with small features. But this look would only highlight angular features, making them appear too harsh.