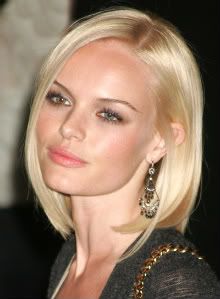 If you have an oval face shape, stop for a second and thank your parents. You've landed the most versatile face shape. You can wear almost any hairstyle. The oval face is mathematically 1.5 times as long as its width, with the forehead slightly wider than the jaw.
No matter the length of your cut, you'll look best with layers near your cheekbones, lips or chin; your best feature is the one you want to highlight.
Dos:
-Add volume to the top of head to keep your face looking thinner.
-Stay away from dated hairstyles. If you haven't changed your style in a decade, find a new photo and get your hair cut. A bad hairstyle can age you by 10 years.
-If you are quirky, try out a funky hair cut and color. But if you're a busy mom, cut your hair so it's stylish, yet doesn't require a lot of styling. Make sure your hairstyle suits your personality and your lifestyle.


Avoid:
-Stay away from a spiky and short topside. Avoid width or volume on sides.
-Don't fight your natural hair texture.
-You can straighten curly hair, but it takes time and money. Why not invest in a good haircut instead?
-If you have super thin hair, don't try to grow your hair beyond your shoulders without the help of extensions, your hair will be lifeless and flat, no matter how much product you put in it. Instead, cut in layers and keep the length above your shoulders.