Success through high expectation "Professional Hair Care for you"


Being one of the top three hair cosmetic brands in the world, the Henkel-brand Schwarzkopf represents quality, expertise and innovation for more than a 100 years now.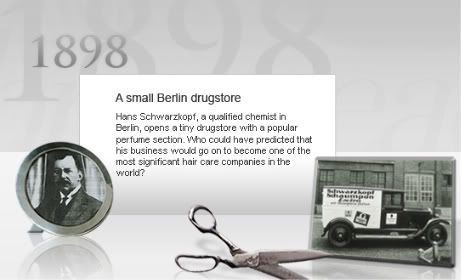 Who founded Schwarzkopf?
A man with a vision that continues to live on 100 years later
A chemist named Hans Schwarzkopf founded the company in 1898. He invented and marketed the first powder shampoo. Driven by his passion for hair and his vision for the industry he also founded a hairdressing academy in 1927.
What does Schwarzkopf stand for?
A passion for beautiful hair
We stand for innovation, reliability, quality, trust and competence - these are the foundations on which our business thrives. We are driven by a passion for creating beautiful hair and this is reflected in each of our products. In addition, our ASK Academies and Studios are recognised centres of excellence that inspire and educate hairdressers around the globe.
How are we perceived?
With a unique heritage and an award-winning reputation
Schwarzkopf has a heritage that dates back over 100 years and maintains a reputation for effective, inspiring and nurturing hair products that meet the needs of the client. The Schwarzkopf brand has won many advertising awards and has been elected 'Most trusted European brand' by the readers of the Readers Digest for the sixth year in a row.
Who owns Schwarzkopf?
A parent company with a strong global portfolio
Schwarzkopf became a Henkel company in 1995. Schwarzkopf is one of four strategic businesses that also include adhesives, detergents and technologies.
What is Schwarzkopf doing for the future?
Ethics and values for the next generation
Henkel takes its ethical and environmental responsibilities seriously with an effective programme for environmental protection and social responsibilities at both a global and local level. This programme is inherent to the future success of the Henkel Group.