Do you remember when I had to take that Saturday off back in....like September or something, and spoke about some crazy photoshoot thing I did? Well this is the video of it! And I'M in it!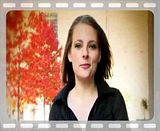 http://s807.photobucket.com/albums/yy357/thedandelionnetwork/?action=view&current=FAB_Promo_final.flv
Sarah Adams is the creator of The Dandelion Network and she approached me about a year ago, when I first started as a stylist on the floor. She had been going to a Master at Ihloff, but she LOVED my scalp massages and shampoos so much, that she followed me when I was out on my own. Well, we've teamed up together, along with Chealsea Price, owner of Magnolia Artistry, to do On-Location Boudoir Sessions. This previous one was at the Price Tower in Bartlesville, OK. A very different type of building, with super cool architechture let Sarah have fun with the shooting.
I participated for a very short mini session, just so Sarah could use it for the video (who Sarah Pendergraft, owner of PenWeddings shot). I also did all the hair for the models, so there's a little bit of that going on as well. It's not the 'salon setup'; no mirror, a little strange table for curling irons and such, but we made it work! Chealsea and I teamed up and made the girls as beautiful as possible before they went and strutted their stuff for Sarah!
Now...why am I sharing this with you? Because....we all know that it is the holiday season and then Valentine's Day, and I'm sure your Anniversary is coming up too. What a PERFECT gift for that special someone! Now, I think at this point in the year, it would be a little close for 'on time' Christmas presents, BUT Sarah does do one-on-one sessions and groups of friends for like a "Ladies Night". You can contact her at
sarah@fineartboudoir.com
.
It's fun, I promise. I was a little nervous at first, but the 2 glasses of wine helped a little too!