Are you bored with your hair? Who isn't at one time or another? Here are just a couple little tips that you can do to change it up!
~ Change your part. Sometimes just switching which side you part your hair on can be a big enough difference and add some necessary volume to your hairstyle in between touch up cuts.
~ Switch from curly to straight or vice versa! It is winter now and the humidity isn't such a big deal, so take the time to straighten your hair if you want! One thing to remember though, DON'T wash it everyday! If you DO take the time to straighten it, try to wear it that way for a few days. Save time, product, and your own energy.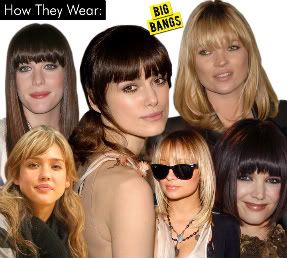 ~ Add bangs. This is a very small part of your hair but totally transform a haircut. Side swept, wispy short bangs, blunt bangs, totally different look!
~ Deepen the color. Adding some copper, redlights, lowlites are trend right now. It's winter, but we don't want to be ashy, drab, and dull. We want to enhance what you have, and really make it pop!
~ Play with your hair. If you always wear it down, take the time and pin up a couple pieces. Add a look 'poof' to the back and just pin up the sides. (Backcombing is your friend and NO the 'bump-it' is not allowed!) A cute headband or bobby pin can make an ordinary day extraordinary!