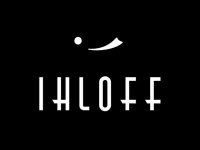 http://www.ihloffspa.com
Oh, my lovely salon; love it! A little background...
When I first moved to Oklahoma, I really didn't know if I wanted to continue to do hair. I had been working in Iowa at a salon and in a restaurant. I made really good money in the restaurant and it was easy and I've been doing it forever. The salon...it was fun, but...I made more money in the restaurant. Instant gratification I suppose, right?
Well, when I moved here, I started to work at The Polo Grill and all the clients there were constantly asking me if I was going to school or what I was doing. I just told them that I hadn't had a chance to get my license transferred yet from Iowa to Oklahoma, and I wasn't quite sure yet. Everyone told me about Ihloff and how great it was and how I should definitely go there.
So, I applied and was intent on getting the job. I had only been to the salon at Utica, so I didn't realize how large of a company it was, now having
4
different locations! I went through quite the interview process, 3 different times, so I could understand what I was getting myself into and them making sure I would fit with the company.
At our salon, every stylist has to go through an Assistant Training program. In Oklahoma, you have to go to school for 1500 hours I think, so about 9 months. In Iowa we had to go a little longer, so I was in school for about 18 months. But the Assistant program teaches you how to work in a salon and perfect the skills that you've previously learned and how to deal with clients in a one-on-one circumstances. Color with Aveda is extremely complicated as well, because you make everything; there is no "golden light brown" to pick, you have to mix it up from scratch.
40 classes and Advanced Masters sitting on your jury, will pass you through to being a stylist. It usually takes 8-12 months depending on how serious you are about the program and if you do any volunteer opportunities. After that, you start as a Protege 1 and we have 8 different levels at the salon.
To be able to advance to the next level, there are different goals that you have to meet and then you advance to Protege 2 (where I'm at).
The other levels are: Designer 1 & 2, Senior 1 & 2, Master & Advanced Master.
I was up for promotion at the beginning of May and today my manager let me know that I reached all my goals to be able to move up into a Designer 1 spot. But...I decided to not, not yet. I requested that I start to 'double book', which means when I have a color/foil, cut someone else's hair. I hopefully will be much busier and I prefer that. I don't like sitting and color seems to take forever sometimes. This way, I'll be able to see more people and keep busier overall. Yeah!