I didn't think that the 'busy season' started until November, with the holidays pushing in, but I'm not so sure that's the case now! One of the girls in the call center surprised me the other day. She mentioned that one of my guests had missed her appointment and then to reschedule it took her two weeks later to find a time that would coincide with the two separate schedules.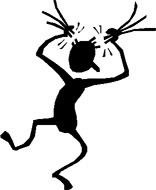 Brings me to point #1. If you cannot make your appointment for any reason, please just call ASAP. I usually have people on the waiting list for my Tuesday and Thursday night and sometimes Saturdays too. If you call to reschedule, they will probably take that time spot instead. Which means - the spot they had before, MAY work for you better! Then I'm also not sitting at work with no one in my chair, knowing that someone else wants to be there. Win-Win-Win situation for everyone! Yay! (Although, every now and then a break is good, but that's why I schedule a 'lunch'.)
Point #2. I mentioned Wait List. Yes, I do have one. I know so SO many people work. That's why I have adjusted my schedule to be to accommodate everyone's needs. I know that I am NOT a early morning person. Aka - I do NOT have an 8:30AM - 2:30PM shift because I know that it does not work for me, my lifestyle, or even most of my clients.
Sunday: 12PM - 6PM (at Utica, Midtown)
Monday: 9AM - 5PM (South Memorial)
Tuesday: 12PM - 9PM (SM)
Thursday: 3PM - 9PM (SM)
Friday: 10AM - 4PM (SM)
Saturday: 9AM - 5PM (SM)
The Wait List is not complicated, although sometimes you have to just remind the call center/front desk about it. They will try to get you scheduled as soon as possible, but if there is another earlier time/day that works, just let them know. Then, in the event a cancellation does happen, you can get in even earlier!
Point #3. I did list my days and hours again, although they are listed on the right hand side of my blog. I wanted to point out that they are flexible, to an extent. Now, I'm probably not going to get out of bed at 7AM to come in for a kid's haircut on my day off, but I do enjoy what I do. I've pointed out to some of my guests that I'm not married, no children, no pets, no boyfriend (yes...I know, STILL), and not even a lease on my apartment. I really have 0 responsibilities. And I love my work. So if you're having problems scheduling, call and talk with the call center, schedule something and then send a note over to me if something isn't working well. I'll call you personally, and see what we can do!
I did want to thank everyone for how sweet you are and it is because of you that I get out of bed and leave the house everyday. I was homesick for Iowa when I first moved here over 2 years ago, but I am so incredibly grateful for having made the choice that I did to move here. I think it's been the best thing I could have ever done, so thank you for helping in that!
~Christa